Our team is here to provide you the best, most comfortable and stress-free experience possible.
We want you to feel right at home with us, and we're happy to provide an introduction to the team members who are vital to our practice. Take some time to meet our team by reading over their bios, qualifications and hobbies so you can get to know them.
We care deeply about serving the Anderson community, so we've also taken the time to list some information about how we contribute our time and effort to give a little back to our neighbors.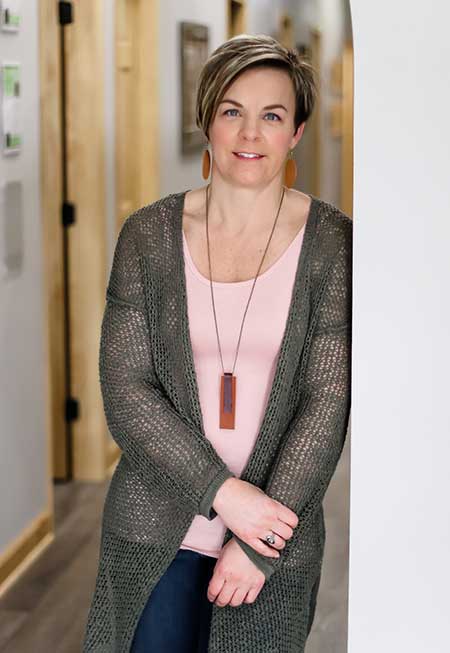 Meet Dr. Rhonda Lisowe
Anderson, SC Chiropractor
Dr. Rhonda grew up in a small farming community in Wisconsin. While growing up, athletics had a significant impact on her life and influenced her decision to pursue a degree in Exercise & Sport Science at the University of Wisconsin-LaCrosse. Dr. Rhonda chose to focus her studies in Physical Education with a concentration in Adapted Physical Education. Upon completion of her Bachelor's Degree she began teaching in Lakeville, Minnesota. After enduring too many cold winters, Dr. Rhonda decided to move south and begin work on her Master's Degree at Clemson University. While completing her Master's in Community Counseling, Dr. Rhonda also continued teaching; spending the next 9 years at Westside High School in Anderson, South Carolina.
After 10 years in public education, Dr. Rhonda decided to make a career change. She attended Sherman College of Chiropractic in Spartanburg, South Carolina and graduated in December of 2015 as a Doctor of Chiropractic.
While some view the move from teaching to chiropractic as an unusual transition, Dr. Rhonda feels that being a chiropractor is an extension of her teaching experience. Dr. Rhonda is passionate about teaching others about health and wellness. She loves to share with patients the incredible power found within the body to heal itself and also the benefits of taking care of one's body. Dr. Rhonda has experienced the benefits of chiropractic in her own life and desires for all to live life to its fullest potential.
Outside of the office Dr. Rhonda enjoys staying active, traveling, working on projects, volunteering and working in her yard. She is always up for an adventure and loves experiencing new things. Dr. Rhonda brings a passion to teach, serve and help the people in her community through chiropractic. She looks forward to the opportunity to meet you and have each of you experience the amazing benefits of chiropractic.